The Artist
Jacques Tremblay
Who is Jacques Tremblay?
A shy and timid man who paints with passion what he knows best — the Quebec village.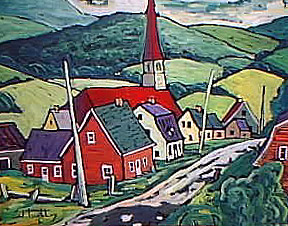 A self-taught artist, Jacques Tremblay grew up in many of the same sleepy towns depicted in his paintings. He was inspired by the village churches, the red rooftops, the stone homes, and the wooden shacks, all of which were part of the picturesque mosaic of the Quebec landscape. Today, these same towns are somewhat modernized and commercialized, but fortunately Tremblay has made it his life's work to paint the Quebec and Acadian village as it once was — full of color and undisturbed rustic charm. The subjects of his paintings are a blend of what there is today, with things that existed when he was growing up.

The main artistic influences for Tremblay's earlier works came from Cezanne's art. Here the artist learned about concept, design and color. Van Gogh's art became a big influence throughout his middle period when the artist perfected his brushstroke and color. But it was not until Tremblay stumbled upon the works of the only Quebec master he knew about, Marc-Aurele Fortin, that his art became "whole."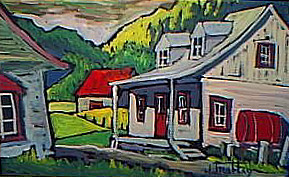 A conglomerate of these influences, coupled with the artist's intense passion to portray scenes from his past, are all ingredients that lead to the delicate creation of a Tremblay painting.
In his present period the artist is painting on a black background.
Although very complex , Jacques Tremblay is extremely excited about this new period because it is a mix of all his previous styles coupled with what I believe is the most intensely creative period of his life.
Ferdinando Onorato, art gallery director